News hardware The Radeon RX 6400 is the cheapest graphics card of its generation, and it's available
The rumors were therefore true, after the controversial Radeon RX 6500 XT, AMD has just officially announced the RX 6400, a minimalist graphics card, without secondary power supply, available in Europe from only €209.
AMD launches the Radeon RX 6400, an entry-level graphics card at only €209
After last month's rumors and numerous leaks that appeared in recent days, including photos of a custom version called Radeon RX 6400 Challenger at ASRock, we no longer really had any doubts about the upcoming release of this Radeon RX 6400. All that was missing was formalization and a release date from AMD to make this real.
So it was yesterday afternoon that the American firm spilled the beans, yes the Radeon RX 6400 is a reality, it is available now at a price of 159 dollars in the US and still 209 euros in Europe. A rather mind-blowing price difference, especially when you know that you will never find it for very long at this price…
As a reminder, the Radeon RX 6500 XT, released at the beginning of March at the official price of €210, rarely trades below €250 even though it does not suffer from any breakage. A price judged, rightly, prohibitive compared to the performances offered.
Modest characteristics pending concrete tests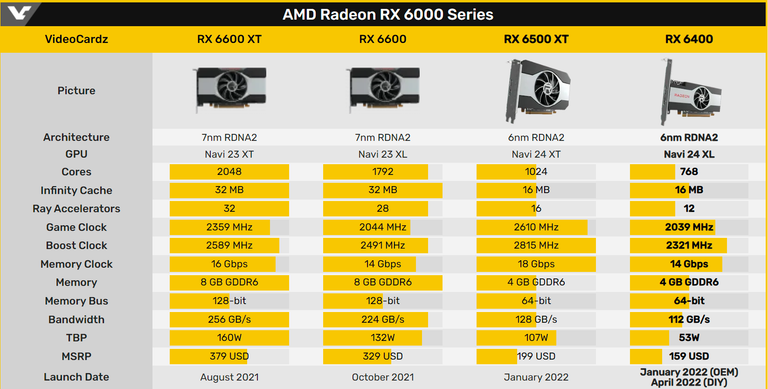 Without being fundamentally bad, the Radeon RX 6500 XT got the ultimate bad buzz of being far too expensive for the performance offered. Even before testing it, we are a bit worried about the reception of this Radeon RX 6400, which is intended to be even more modest for a price once again above €200. The US price of $159, or around €142, seems much more consistent to us on paper.
Be that as it may, our colleagues at VideoCardz were right when they announced the characteristics of this little Radeon RX 6400. We thus find a Navi 24 XL type GPU engraved in 6nm, 768 Cores, 16 MB of cache, a base frequency of 2039 MHz (2321 MHz in Boos) as well as 4 GB of GDDR6 at 14 Gbps and a bandwidth of 112 GB/s.
We are not going to ignite on the expected performances, we should clearly not expect to run Cyberpunk 2077 in 4K… On the other hand, in terms of consumption, this is a huge positive point, sinceit does not need a secondary connector (only the PCI-E port is enough), and its TBP is only 53Wagainst 107W for the 6500 XT or 160W for a 6600 XT for example.
Buy the AMD Radeon RX 6400 graphics card from 209€ on LDCL
---
This page contains affiliate links to some products that JV has selected for you. Each purchase you make by clicking on one of these links will not cost you more, but the e-merchant will pay us a commission.
Learn more.

By LudolinkJournalist jeuxvideo.com
PM