Game news Lost Ark: the spearhead, region of Bern-Sud… the new features of April presented in a new trailer
Starting tomorrow, a new update will be deployed on Lost Ark! In the program ? A new specialization for Martialists and the South Bern region.
Summary
Lost Ark: all about the techniques of the Spearman and his weapons

Lost Ark: why go to South Bern?
Lost Ark: all about the techniques of the Spearman and his weapons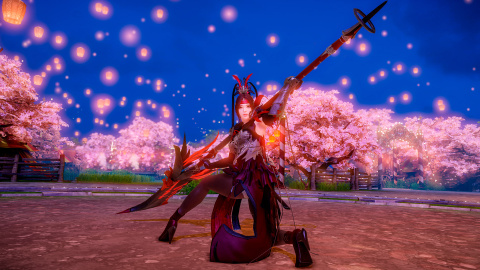 Released last February, Lost Ark expands its content with regular updates. And despite the end of April approaching, the fourth month of 2022 is no exception as the developers of Smilegate RPG recently released a trailer showcasing the content to come in the update. incoming.
As of tomorrow, the spear specialization will be available to all players of the Martialist archetype. She has two combat poses: one with the spear, and the other with the sword. These are between these two poses, or stance as some say, that players will have to alternate to optimize their damage. A style that varies but promises to be interesting and above all to be strong with the spear: the latter seems to inflict heavy damage in melee but also at mid-range with a range of 180: Stellar Leap lets you jump on the ground and throw enemies in the air, Wheel of Blades also allows to send enemies in the air before slamming them to the ground while the attacks Dragon are very powerful thrusting blows
Lost Ark: why go to South Bern?
But the Spearman is not the only novelty of this update since a brand new region will welcome players 1340 and more: Bern-Sud. The latter, which had become a flourishing region thanks to the melting pot of diverse and varied technologies, closed its doors when dangers threatened North Bern. But then, what hides this so peaceful region? It is up to the player, on the orders of Queen Ealyn, to investigate the various mysteries of Bern-Sud.
General Updates
Bern-Sud and the Advanced Lancer Class aren't the only new features for April. Stay tuned for new details in the coming weeks, including: new login rewards, new in-game events, skins and shop updates, and (minor spoiler) growth ticket Express du Feiton which will give you item level 960 gear to upgrade your new spear or character of your choice!
General improvements:
Improved team co-op play for secret cards: All four team members can send a card for rewards in a single match.
Chat tab settings are extended across the entire expedition.
Improvements to Coordination Book Settings: You can now use skill presets, Tripod level, skill runes, item set effects, and more. !

By CharlanMhgWriting jeuxvideo.com
PMTwitter