Crypto.com was founded in June 2016 by Kris Marszalek, Rafael Melo, Gary Or and Bobby Bao. At first, the platform was known as "Monaco Technologies GmbH". On December 25, 2021, the iconic Los Angeles Lakers stadium was renamed "Crypto.com Arena" in a naming rights deal worth over $700 million.
In this article, we share with you our crypto CRO predictions for 2022. To do this, we will perform analysis of the token along with other key indicators to provide you with logical predictions on where its price might go. But before we start, let's find out together what Crypto.com is
Contents
What is Crypto.com (CRO)?
Its tokenomics
Crypto CRO Price Predictions
Our predictions for 2022
Could the CRO crypto reach $1?
What is Crypto.com (CRO)?
Crypto.com is a platform for trading which offers financial services. The company's native token is Crypto.com Coin (CRO).
One of the company's most recent and significant projects is its Crypto.com blockchain. It is, in fact, an open source blockchain that offers from costs low and high transaction throughput. Crypto.com aims to expand blockchain adoption through services such as regular payments, decentralized finance (DeFi), and an NFT marketplace.
Another interesting product is the crypto.com card, which is compatible with both fiat and crypto currencies. Additionally, it offers a 20% buyback for CRO payments and a 10% discount for purchasing gift cards.
Indeed, the company is constantly looking for new ways to accelerate the blockchain adoption process. All with the aim of giving its users more control over their own money and data.
Its tokenomics
When the main network CRO was born on March 25, 2021, 70 billion tokens were burned. This makes it the largest token burning operation in crypto history. Since then, it is no longer possible to mine CRO tokens, which limits the maximum supply to 30.263 billion tokens.
Thus, CRO tokens are divided into five main categories:
1- 30% – Secondary distribution, issued in regular batches.
2- 20% – Capital reserve (released on November 7, 2022).
3- 20% – Long-term incentives for the network (unlocked on November 7, 2022).
4- 10% – Community development.
5- 20% – Grants for the ecosystem.
Moreover, CRO crypto holders can also place their tokens in staking and earn rewards for helping to process transactions on the network, since CRO is used to execute transactions.
Crypto CRO Price Predictions
Crypto CRO price has been falling since hitting an all-time high of $0.97 on November 24. So far it has lost 55%. Currently, it is trading just above the $0.618-0.425 Fibonacci retracement support level. It is therefore possible that the current level initiates a rebound.
Otherwise, there is very strong horizontal support at $0.32, created by the previous area where the all-time high was reached. Therefore, it is likely that the CRO crypto will bounce off one of these support levels, temporarily slowing its decline.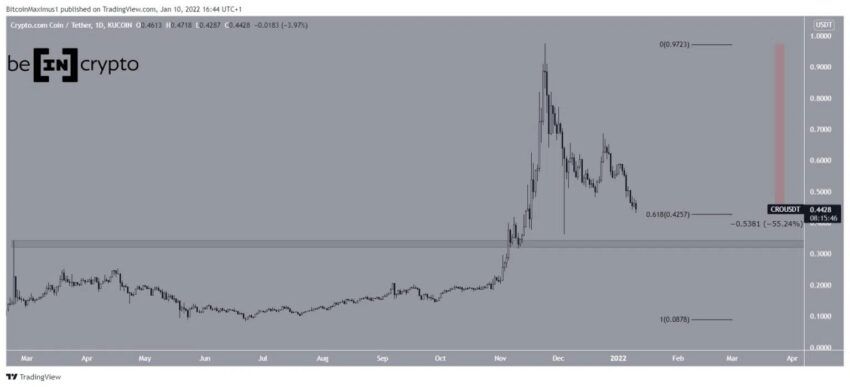 Our predictions for 2022
CRO started a five-wave bullish move at the start of 2021. It also looks like the CRO crypto is currently in the fourth wave of this formation which, as mentioned above, could end between $0.32 and $0.42. .
The third wave was the longest, reaching the outer Fibonacci retracement level of 4.618. Therefore, the fifth wave may have a similar length to the first, which would equate to a 100% upside move.
Starting from the lower part of the potential support, a 600% increase would take the CRO token price to $2.23.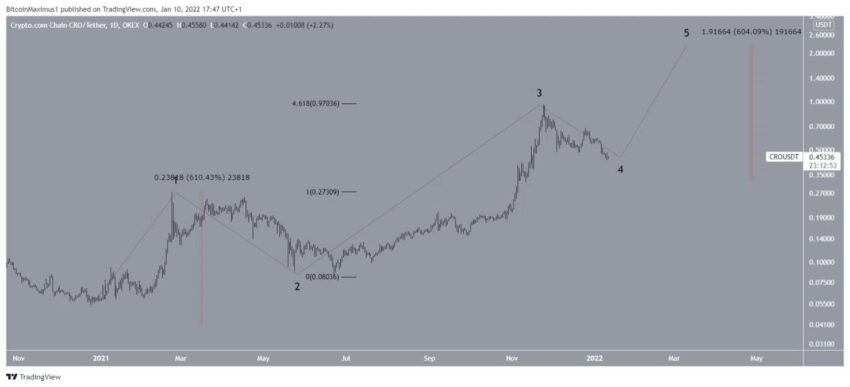 Could the CRO crypto reach $1?
The CRO crypto is currently in the middle of a retracement phase, which could allow it to break above the $1 mark in 2022. However, as usual, nothing is guaranteed.
Of course, if CRO manages to take advantage of its large reach, it could accelerate its growth. And, with any luck, it might bounce back to one of its support levels.
Disclaimer
All information contained on our website is published in good faith and for general information purposes only. Any action taken by the reader based on the information on our website is strictly at his own risk. In the Learn section, our priority is to provide high quality information. We take the time to identify, research and create educational content that will be useful to our readers. In order to maintain this level of quality and continue to create valuable content, our partners may pay us a commission for placements in our articles. However, these commissions do not affect our processes for creating objective, honest and relevant content.